Profit after split is calculated with the following formula: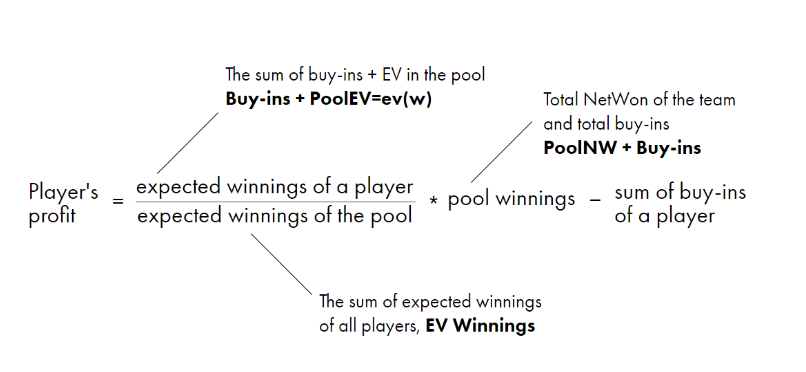 Scam is excluded from pool NetWon. We add cash to pool NetWon if there were corrections from the previous periods after the verification of player's results. Added cash can be positive or negative.
Alternative option to wright the formula:
Player's profit = PoolEV + k* (EV - NetWon), there k is a player's share in total swing of the pool.
k = (PoolEV + buy-ins) / (EV + BI)
First part of the formula contains player's stats, the second part contains the total amounts of all players.
If you don't want to go deep in to formulas:
A player receives his EV + his share in total pool swing. It can be an upswing or a downswing. If the pool has downswing, it will decrease the player's EV and he receives less. In case of upswing the player receives extra money. From what depends the share in the pool swing? Mostly it depends on the amount of player's buy-ins per playing period. The more is the stake and the more tournaments a player plays - the more is the share in the swing.
Player's EV matters as well, but its influence is not significant, cause it's not big in comparison with the amount of buy-ins.
The NetWon in tournaments with top-multipliers are excluded from the pool by default:
Pokerstars - х12 000
Winamax - х10 000, х1000
Partypoker.com - х12000, Partypoker.fr/es - х10 000, х1000